Individual therapeutic gymnastics training
Individual physiotherapy is a physiotherapist-led therapeutic exercise individually with each guest. It is focused on the maintenance, restoration and re-education of physical motor functions, as well as on the development of functional motor adaptation of the organism. Special methodologies are used to train individual affected parts of the body, rehearsing basic monotonous movements that have been damaged by disease or injury. It also includes active client practice and cooperation. The procedure is tied to a doctor's prescription. It takes 20 min.
Group Kinesitherapy
Group kinesitherapy is professionally guided therapeutic physical training in groups. The exercise uses elements to relax overloaded muscles, strengthen weakened muscle groups, the mobilisation of joints and spine, movement coordination. An integral part of the exercise is breathing gymnastics, dexterity, endurance, balance and overall improvement of fitness. The procedure lasts 20 min.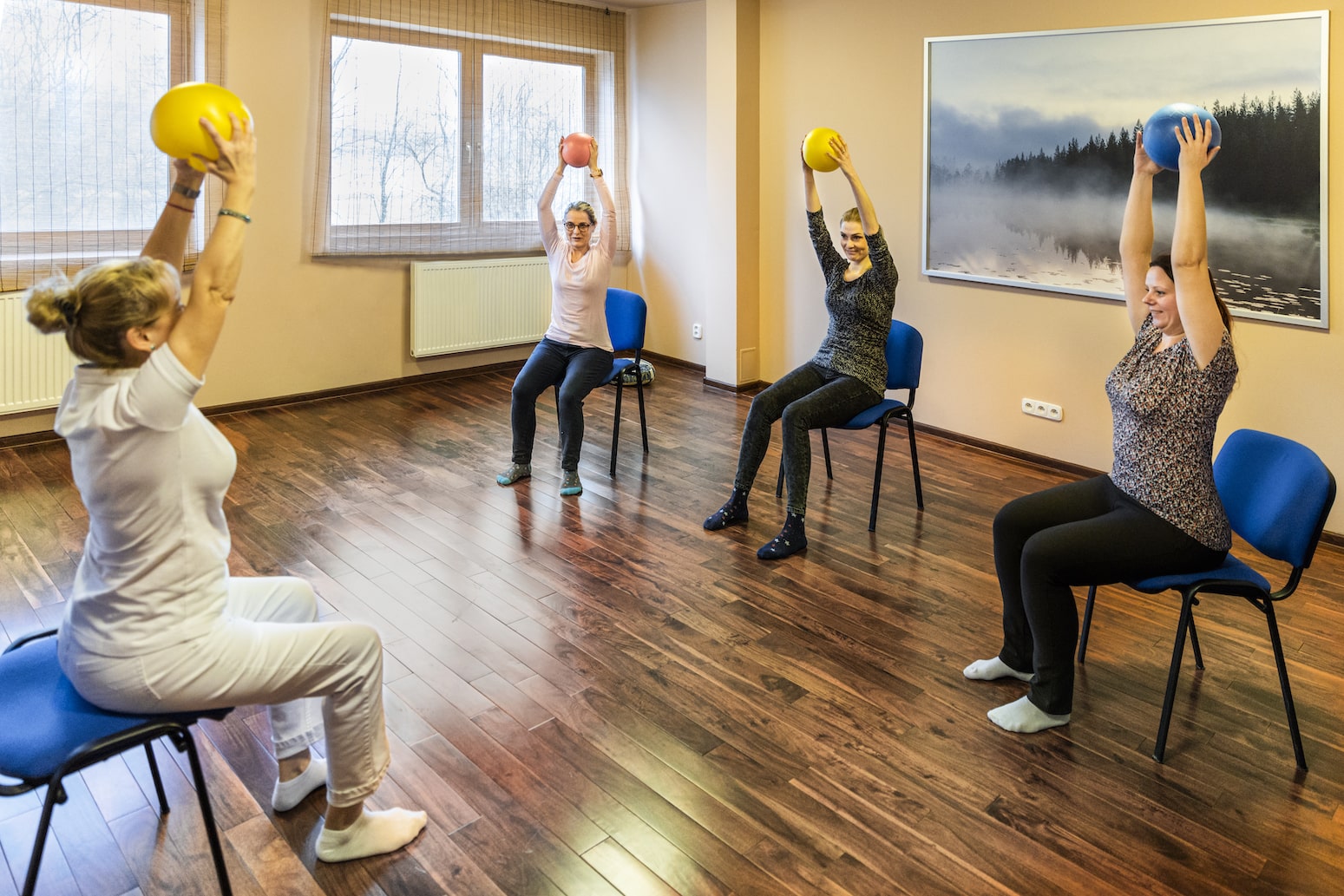 Group Hydrokinesitherapy
Professionally guided active therapeutic physical education in water. It is usually practiced in groups with a similar diagnostic focus. The procedure takes advantage of the beneficial effect of the water environment - the buoyancy of the water lifts the patient. It is mainly used after lower limb injuries and surgeries, where the full load of the limb is not yet allowed. The procedure lasts 20 min.
Nordic Walking
Dynamic fitness walking in natural terrain using special Nordic walking poles. The rhythm of the movement is provided by double-period cross-movement dynamics. This is an ideal form of physical training with 40-50% higher efficiency than normal walking, while the overloading of the weight-bearing joints is up to 30% lower. Nordic walking improves fat and carbohydrate metabolism, is particularly suitable for weight reduction, improves cardiopulmonary performance and helps with osteoporosis. An ideal physical activity for all age groups, including seniors with degenerative diseases of the spine, weight-bearing joints, coordination disorders, or ischemic vascular disease. Sports walking clothes and comfortable sports shoes are recommended.
Water Aerobics
Water aerobics is an aerobic exercise in a water environment. Compared to other forms of aerobics, it is an exercise without any shocks and negative effects on the joints. It is practiced in the swimming pool in small groups. Water aerobics is aimed at increasing physical fitness, improving the cardiovascular system, reducing excess weight and shaping the body. For this reason, it is a popular procedure especially among women. It takes 20 min.